2 Comments

Effective positive and negative pressure rooms are an important part of industrial climate control systems. In medical settings, these rooms prevent the spread of infectious contaminants and maintain sterile or restricted spaces and are also referred to as Protective Environments (positive pressure rooms) and Airborne Infection Isolation Rooms (AIIR) (negative pressure rooms). Negative or positive pressure rooms are a necessary part of a wide range of medical and research environments, as they help maintain clean conditions in the smallest clinic to the largest hospital.
Understanding Positive and Negative Pressure Rooms
Positive pressure rooms maintain a higher pressure inside the treated area than that of the surrounding environment. This means air can leave the room without circulating back in. In this way, any airborne particle that originates in the room will be filtered out. Germs, particles, and other potential contaminants in the surrounding environment will not enter the room. In medical settings, a positive pressure room (protective environment) allows staff to keep vulnerable patients safe from infections and disease.
In contrast, a negative pressure room uses lower air pressure to allow outside air into the segregated environment. This traps and keeps potentially harmful particles within the negative pressure room by preventing internal air from leaving the space. Negative pressure rooms in medical facilities isolate patients with infectious conditions (AIIR) and protect people outside the room from exposure.
Positive and negative pressure rooms both require a number of additional components to remain effective: Building positive and negative pressure rooms requires the use of specialized construction and climate control equipment. A minimum of 12 air-flow changes each hour must be maintained in order to sustain the desired environment and depending on the size and purpose of the room, more may be necessary.
Recirculation of air through HEPA filters to control the movement of airborne contaminants
Self-closing entryway with an adequate seal
Thoroughly sealed floors, ceiling, walls, and windows
Fans and ductwork to move air in the desired directions
A monitoring system that allows users to adjust pressure when necessary
Intermediate environment between the pressure room and outside environment for deliveries, observations, and protective gear storage
Some medical facilities additionally incorporate UV radiation into the system to help maintain a sterile environment. Using UV light in a filtration system sterilizes particles and reduces viruses (such as coronavirus) in the quarantine space, helping to protect healthcare workers who enter the room to service the quarantined patient.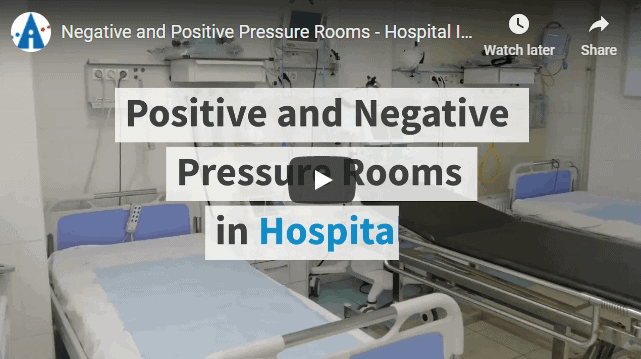 Positive and Negative Pressure Rooms in Hospitals
Positive and negative pressure rooms are an essential part of controlling the spread of infectious diseases within large facilities such as hospitals. Negative pressure rooms (airborne infection isolation rooms) are a common solution in infection control efforts. Hospitals use them in inpatient rooms to ensure infectious germs don't spread throughout the facility via the HVAC system. Hospitals usually design the following areas as negative pressure environments:
Waiting areas, especially in emergency rooms
Triage areas
Bathrooms
AII (airborne infection isolation) rooms
Autopsy and dark rooms
Soiled laundry areas
Decontamination spaces
Positive pressure rooms are usually used in scenarios that must continually filter harmful contaminants out of the environment. This makes them helpful when treating patients with compromised immune systems because the introduction of any harmful element will be efficiently filtered out. They're also used in situations that must continually maintain a specific type of atmosphere in a room, such as human and animal nurseries. Other uses of positive pressure rooms include in vitro fertilization labs and operating theaters.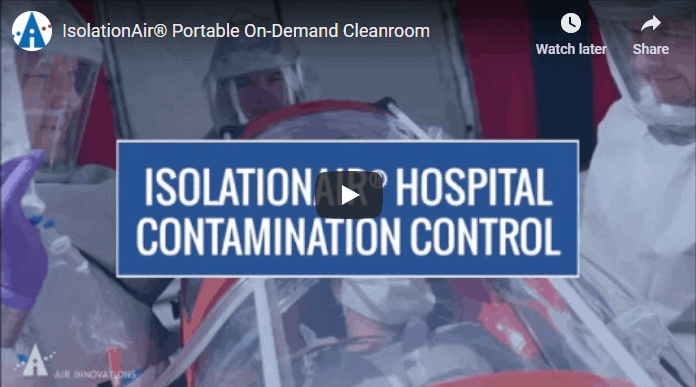 Installing Your Pressurized Room
Hospital managers must carefully plan their pressurized room to ensure they satisfy the following requirements:
The room fits the facility's needs and space
The room conforms to applicable legal regulations
The room fully protects patients and the general public from the spread of infectious diseases
Efficiently installed positive and negative pressure rooms mean the difference between a healthy environment for hospital patients and one compromised by infectious pathogens.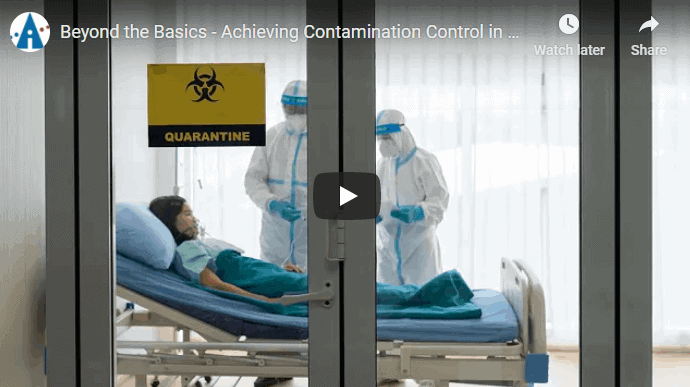 Discover All That Air Innovations Has to Offer
Air Innovations creates custom positive and negative pressure environments for various medical and specialized facilities. From full custom quarantine ECUs to sterile storage solutions we provide a range of products and services that help hospitals maintain healthy indoor environments. Contact us to learn more about contamination control and sterilization solutions or for a customized quote for your next cleanroom project.   Download our IsolationAir-brochure for more details about our line of standard hospital contamination control systems.