Semiconductors are in almost every electronic device, from everyday items like smartphones and coffee makers to complex automobiles, defense equipment, and spaceships. Manufacturers make semiconductors in special semiconductor cleanrooms because the wafers are extremely sensitive to environmental contaminants.
Here we explore semiconductor cleanrooms in more detail, including all their design requirements.
Semiconductor Cleanroom Design: Meet Air Quality Standards
Semiconductor cleanrooms are enclosed environments located within semiconductor foundries or fabs, that have tight control over the following:
Temperature
Humidity
Airflow
Temperature change over time
Noise
Vibration
Lighting
Airborne particles
Semiconductor facilities must precisely regulate these parameters to maintain the highest air quality standards, all while optimizing productivity. Following these standards is paramount as even a particle of dust can render a chip useless.
A proper cleanroom design must have a well designed HVAC system that focuses on temperature, humidity, filtration, and the attributes noted above to treat and circulate air within acceptable limits. Each machine may have individual exhaust systems for removing contaminated air and particulates. Every cleanroom must be able to control particulate matter, static, outgassing, and equipment failure, which can lead to contamination events. These failures can include power glitches, pressure malfunctions, fan motor failure, and wafer handling machine breakdowns.
Controlling Temperature, Humidity, and Airflow
Semiconductors have an inverse relationship between temperature coefficient and resistance. When heated, semiconductor conductance increases and resistance decreases. The outermost electrons separate from the material compound's atomic nucleus. As free electrons multiply, resistance drops accordingly. When manufacturing semiconductors, it is vital to keep temperatures within a certain range so the finished chips perform properly in their application.
Relative humidity in semiconductor cleanrooms should fall between 30-50%. This range is optimal for both inhibiting bacterial growth and the comfort of cleanroom personnel. Airflow should follow vertical laminar flow, where air blows from the ceiling to the floor. The air should enter vents in the floor, be purified by HEPA filters and regulated for temperature and humidity, and then recirculate into the room.
Cleanroom Classifications for Semiconductor Manufacturing
Semiconductor cleanrooms are required to meet ISO 14644-1 Class 5 or lower, which mandates a maximum of 3,520 particles at 0.5µm or smaller per cubic meter of air. They must also comply with ISO 14644-2, which requires the implementation of a quality control system that meets rigorous classification criteria.
Depending on the application, a semiconductor fabrication plant may also have industry-specific regulations from the EPA, the SEMI Standards Program, a variety of industry task forces and technical committees, and other regulatory bodies. There is further variation based on the type of fabrication process, wafer size, and line width. All these standards are followed in conjunction with ISO to ensure the cleanroom environment is under control 24/7 and that the products produced are of consistent and long-lasting quality.
---
Custom Environmental Control Solutions for Semiconductors
Air Innovations' custom environmental control units (ECUs) provide precise temperature and humidity tolerances to meet even the most exacting requirements. Minor temperature differences in the environment during semiconductor scanning can result in false readings. Our semiconductor ECUs control for temperature variations within 0.02 °C, resulting in more accurate readings. Other tolerances include the following:
Airflow: up to 4000 CFM
Humidity: ± 0.5% relative humidity
Setpoint temperature: 19 °C – 23 °C
Temperature change: max of 1°C/5 minutes
Humidity change: max of 1% relative humidity/3 minutes
Our skilled team of engineer can design and develop a custom ECU to satisfy nearly any semiconductor manufacturing application or customer specification. We design our ECUs to fit inside or next to the fabrication environment, and they are available in vertical or horizontal configurations.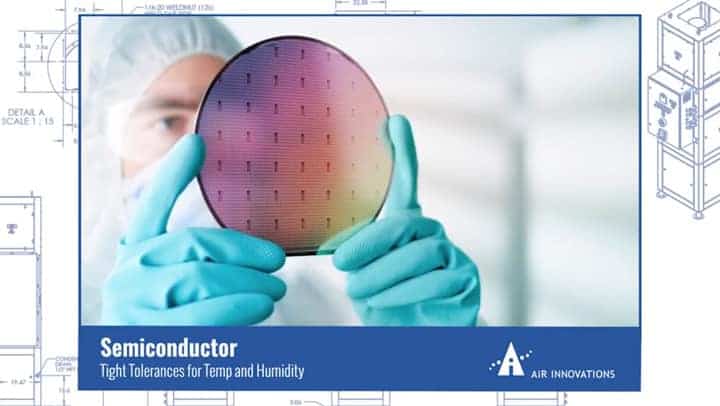 Contact Us for Your Semiconductor Cleanroom Air Conditioning Needs
To meet and maintain stringent quality standards, your semiconductor cleanrooms require a custom ECU. At Air Innovations, we are experts in specialized HVAC, environmental control, and cleanroom systems. We test and validate all our engineered solutions through a dedicated R&D department. Our products are certified to meet ETL, CSA, UL, CE, ANSI, SEMI, or MIL-STD safety and performance standards. Contact us today for more information.
---